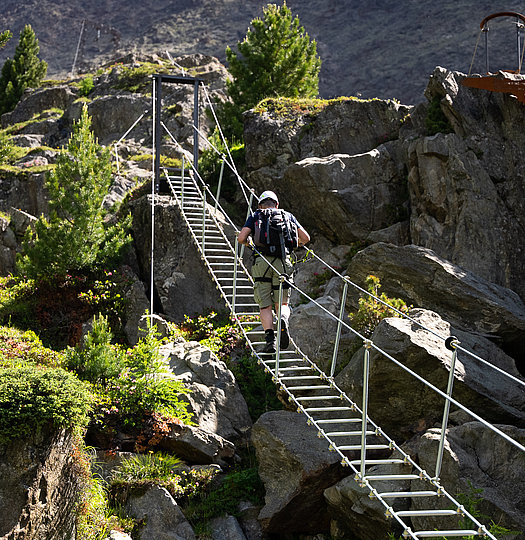 Larix Ferrata & Alpin Trail (open from 1st July)
The via Ferrata "Larix" (Latin for larch), at the foot of the Kurzrasbach waterfall, runs over several rope bridges, two sky ladders, a rope slide and partly challenging climbing passages. In the first part, the via Ferrata leads over and along a small stream and offers plenty of action, interrupted by short walking passages. In the upper part,
from the Rotkofelsee, the Ferrata gets a little lost and offers three short and rather flat Ferrata passages. A successful mix of mountain hike and enjoyable action Ferrata, which particularly delights beginners and families with young people who like to climb.
Suggestion: The "Alpin Trail" mountain hiking trail (marked with red crosses) runs parallel to the via Ferrata. For example, families can start together, some via the action-packed Ferrata and others via the hiking trail. Both experienced hikers and sporty climbers will get their money's worth.
Prerequisite: via ferrata equipment (rental in Maso Corto at Sportservice Erwin Stricker or Ski Factory Maso Corto).
Entrance: behind the Roter Kofel chairlift, at the foot of the large Kurzrasbach waterfall
Exit: above the Teufelsegg hut
Difficulty: medium difficult (C)
Ascent: 3:30 h
Length: 1.8 km
Metres in altitude: 410 hm each
Refreshment stop: Teufelsegg Hut