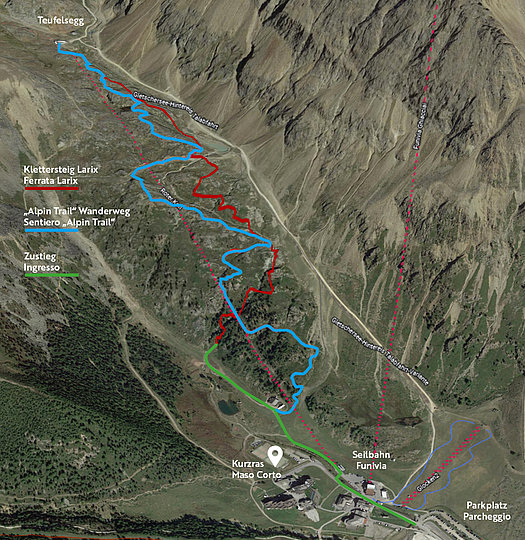 NEW! Larix Ferrata & Alpin Trail
Attention climbing freaks: Since June there is the new via ferrata "Larix" (Latin for larch) and the parallel adventure hiking trail "Alpin Trail" in Maso Corto. The two trails cross at several points and so families, for example, can start together, some via the action-packed via ferrata and others via the challenging hiking trail. The via ferrata runs over several bridges, a rope slide and partly challenging climbing passages. First you reach the reservoir, then you continue over a rocky rise to the campsite from the Bronze Age to above the Teufelsegg Hut. The way back is via the Alpin Trail. The via ferrata repeatedly crosses the hiking trail and can be used for the exit. Experienced hikers and sporty climbers alike will get their money's worth.
Prerequisite: via ferrata equipment (rental in Maso Corto at Sportservice Erwin Stricker or Ski Factory Maso Corto).
Entrance: behind the Roter Kofel chairlift, at the foot of the large Kurzrasbach waterfall
Exit: above the Teufelsegg hut (not managed)
Difficulty: medium difficult (C)
Ascent: 3:30 h
Length: 1.8 km
Metres in altitude: 410 hm each