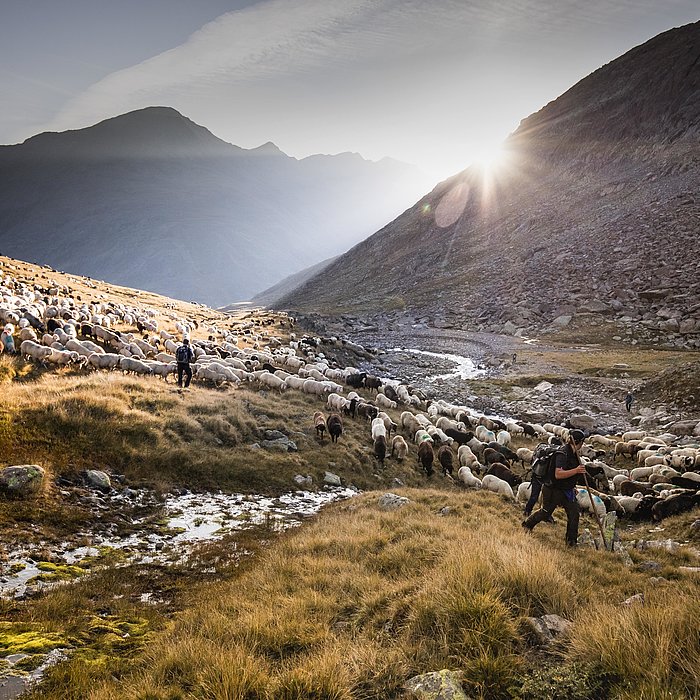 A FEEL GOOD VALLEY
Val Senales valley: Refreshingly real and really rustic
When we say "Schnols über olls", it is because Val Senales, the quaint valley in South Tyrol, is a very special piece of earth. Because it's so heart-warmingly rustic here, and the people are so wonderfully honest. From Juval Castle at the entrance, the valley reaches up to Maso Corto and the glacier area and ends in a spectacular arena - the Alpin Arena Senales. Like no other valley in South Tyrol, Val Senales combines the diversity of the alpine lifestyle, with high alpine air and proximity to the city, a thirst for adventure and a feeling of freedom.
QUALITY? YOU BET!
Val Senales does not have to stage itself, but shows what it has in a subtle, natural way. Whether on the glacier, where the Iceman Ötzi Peak bows in front of the panorama, or in the valley in Maso Corto, where an annual shepherds' festival takes place to celebrate the return of the sheep. Val Senales lets you celebrate ancient traditions and follow Ötzi's footsteps, taste regional ingredients, discover natural treasures and follow your thirst for adventure. All year round!
CITY, COUNTRY, MOUNTAIN
The Val Senales Glacier: pleasantly cool in summer, deep snow in winter. Not far from the head of the valley, a Mediterranean-like breeze mixes in with the ice-clear mountain air. As rustic and high alpine as it is around the Hochjochferner, the Val Senales valley is very close to Merano. You can reach the spa town from Kurzras in about 40 minutes by car. You get from the glacier directly to the city experience and back without detours.