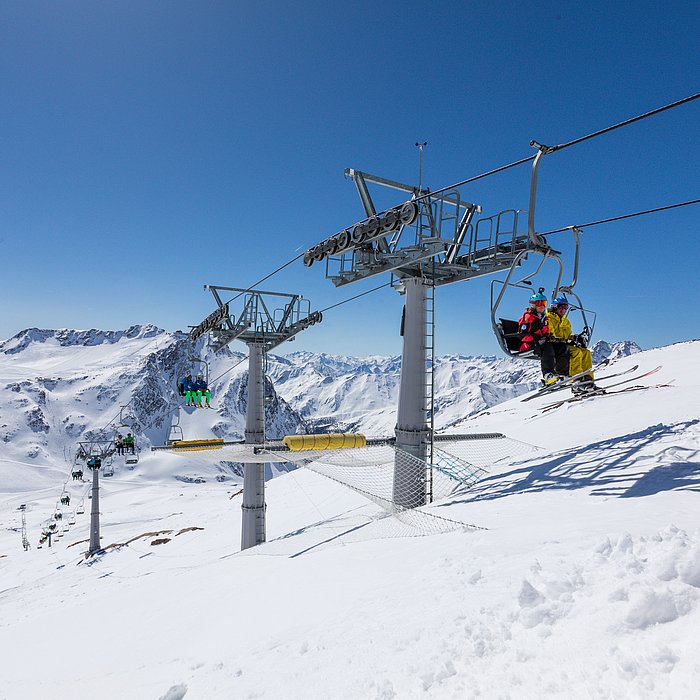 SKI PASS PRICES AT THE VAL SENALES GLACIER IN SOUTH TYROL, ITALY
Ski pass prices in Val Senales for any budget and interest
The Val Senales Glacier Ski Area offers ski passes to suit any budget and interest. Families can benefit from savings with the discounted Snowkids-Ticket and the Family-Ticket.
The Foot-Passenger-Ticket allows single rides on all of the ski area's chair lifts. Groups of 20 people and above are also eligible to purchase the Ortler-Gruppen-Ticket and receive one free ticket as well as an additional 10% off. With the Ortler Skiarena ski pass, skiers gain access to 15 different ski resorts in South Tyrol. The border-crossing Sunny Card ski pass available in Val Senales grants access to skiing in Austria and Italy.
SALES TERMS
All prices are indicated in Euros and include VAT. Schedule and fare are subject to change. Special skipass prices, which are offered as packages with accommodation are not visible on this page, please ask when booking to your host or hotelier.

Attention: no refund of the ticket in case of bad weather, loss, operational standstill, illness, advance departure. The tickets are not transferable, in case of misuse shall be confiscated.
VAL SENALES GLACIER TICKETS FOR KIDS AND FAMILIES
Snowkids-Ticket, Schnupperkarte and Family-Ticket in South Tyrol
The Val Senales Glacier Ski Area offers families a variety of discount tickets for a perfect day outdoors in the snow.

Snowkids-Ticket
With the Snowkids-Ticket, children born in 2013 an later can ski all day for only 4.00 Euros. This ticket option is applicable for more then one child per family, and can also be purchased in the form of multiple day tickets.
Schnupperkarte ticket
Beginners, as well as returnees to winter sports, have the option of purchasing the Schnupperkarte ticket. This ticket follows a point-based system and allows access to the Glockenlift (2 points) and Lazaun cable car (4 points). The 20-Point Schnupperkarte ticket is available for 35.00 Euros per person and the 40-Point Schnupperkarte ticket for 70.00 Euros per person.

Family-Tickets
Almost all ticket options have a special family discount. To be eligible for a Family-Ticket, a minimum of 3 full-paying family members is required. Participants must be members of that immediate family, with at least one parent. Family-Tickets are also open to adult children within a family.
ORTLER SKIARENA
The large ski association of Western South Tyrol
The Val Senales Glacier Ski Area is a member of the large Ski Association, Ortler Skiarena. The Ortler Skiarena ski pass holder has access to 15 ski resorts and 330 kilometers of slopes in South Tyrol.
The Ortler Skiarena can be purchased either as a multiple day ski pass or a seasonal ski pass. It is available at the following location: in the valley station of the cable car in Val Senales

The presale with a discount of 10% on the seasonal ski pass starts on 24/10/2022 and is valid until 30/11/2022.
| | | | |
| --- | --- | --- | --- |
| Prices | Adults | Children | Seniors |
| 4 days skipass | 224,00€ | 143,00€ | 214,00€ |
| 5 days skipass | 270,00€ | 178,00€ | 257,00€ |
| 6 days skipass | 314,00€ | 207,00€ | 298,00€ |
| Season ticket | on request | on request | on request |
Categories
Children free skipass = born 2017 or later
Children: born in 2008 to 2016
Seniors: born in or before 1962

When you purchase one adult multi-day ski pass, your own child skis free if born in 2016. The free multi-day pass is valid for one child per parent.

The season ticket "Ortler Skiarena" is valid from November 1st, 2022 to May 1st, 2023.
SUNNY CARD AT THE VAL SENALES GLACIER IN SOUTH TYROL, ITALY
Austrian-wide ski pass for the entire family
The Sunny Card is a discounted, ski pass for the entire family. This seasonal pass offers unlimited skiing throughout the adherent ski resorts in Austria as well as in the Val Senales Glacier Ski Area in Italy (valid from 30/10/2022).

The card can only be bought online: skisport.com
GROUP TICKETS AT THE VAL SENALES GLACIER IN SOUTH TYROL
Save by skiing in groups
Groups of 20 people or more receive an additional 10% off every purchased ticket and a free ticket every 20 people.

Advanced booking is required. For bookings and further rinformation please email info(at)schnalstal.com.